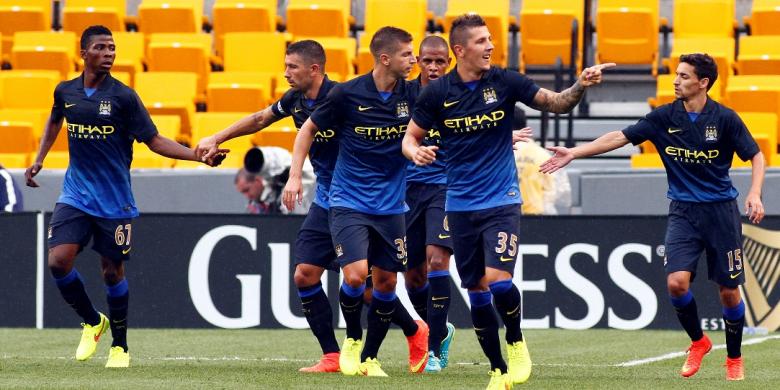 Manchester City 5-1 win over AC Milan in Group B matches International Champions Cup held at Heinz Field, Pittsburgh, Pennsylvania, on Sunday (27/2014).
For Milan, this is the second loss in the last two games. Previously, they lost 0-3 to Olympiakos, Thursday (07/24/2014).
Manchester City opened the taps target Stevan Jovetic with a goal 12 minutes Successfully pushed in the penalty mark, Jovetic hard shot that makes the ball lodged the lower right corner of the goal Milan.
Two minutes later, Scott Sinclair, listed his name on the scoreboard. After picking up the ball from a player walk from Milan in the penalty box, Sinclair quickly launched a shot that goalkeeper failed driven grain Agazzi.
City to get the advantage after Jesus Navas Navas scored 23 minutes to create volley goals.
Within three minutes, picked up the ball again Agazzi network, since it could not block the shot Iheanacho.
Milan could only score a goal back through Sulley Muntari action 42 minutes.
The second half was delayed about 20 minutes due to heavy rain. Once the game started, the coach of Milan Filippo Inzaghi include Mario Balotelli to increase supply.
However, Inzaghi was forced to watch his team conceded a goal again for the fifth time by 53 minutes Jovetic Jovetic scored his second goal with the use of bait Kolarov.
Milan tried to close the gap. However, despite not being broken again, Milan failed to close the gap until the long whistle sounded.
Equipment
Manchester City
: Caballero, Clichy, Kolarov, Boyata, Nastasic, Fernando Navas, Zuculini, Sinclair, Jovetic, Iheanacho
AC Milan
: Agazzi; De Sciglio, Alex, Rami, Constant; Poly, Cristante, Muntari; Honda, Niang, El Shaarawy