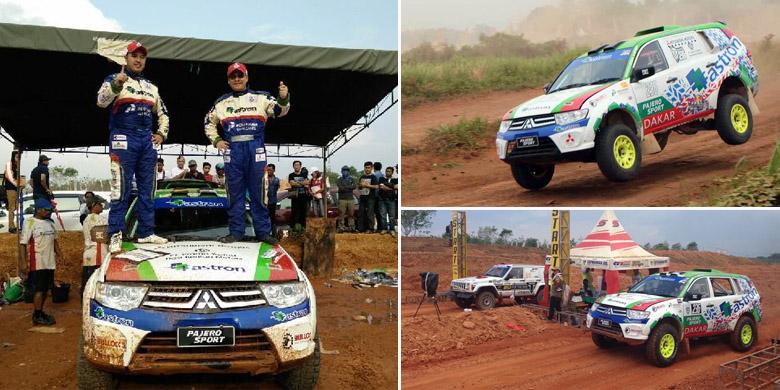 Riding Mitsubishi Pajero Sport Diesel flagship, Rifat Sungkar round win "Best Overall" in the Indonesia eXtreme Offroad Racing (IXOR) finals which took place from 8-9 November 2014, in the off-road circuit Imagery Partner City, Banjarbaru, South Kalimantan.
Rifat, a national rally driver as well as a brand ambassador of this Mitsubishi 0.867 seconds ahead of its competitors, TB. Adhi. "Best Overall" itself is a prestigious stage, followed by the best of the entire group of participants who participated in this championship.
Rifat together navigator, MBN Boyke, able to maximize the performance of the Pajero Sport Diesel engined 2.500cc. Trails around 5 km full of challenges, including extreme parts that can be passed with high speed. The condition is exacerbated by the arrival of high winds.
In the end, Rifat and Boyke record time of 9 minutes 12.355 seconds, the fastest of the 20 other off-roader. "Handling Pajero Sport comfortable, so help us pass the high speed track and winding corner. There is a long corner hard, and the car in a sliding position remains stable, "said Rifat in a press release (11.11.2014).
The success obtained in this event adds a row of achievement Rifat Sungkar together Pajero Sport in various national and international rally scene. After this, the smile rider and team will follow Pertamina Fastron Offroad Speed Offroad 2014 National Championship final round on 29-30 November 2014 at the Paramount Gading Serpong, Tangerang Selatan.